"It is not about playing differently – it is about a different game." (R. Bernhard & A. Olderog, Vivaldi Partners Group, 2014) The last three years have witnessed a revolutionary shift in the role of the CMO; one that has compelled us all to sit up, take notice, and make changes. From once being a purely transactional role, confined to organizational and product positioning, branding, and pricing, the role of today's CMO is far more collaborative, calculated, and customer-centric.
Today's CMO is transforming from a marketing leader, to a strong figure in shaping the business vision, strategy and operations. Previously focused on taking a product to the market and creating touch-points, today's CMO has been elevated to being a crucial player in adapting the products to market changes, keeping a pulse on foreseeable opportunities, being in tune with investments and revenue, and being the guiding force on the business blueprint. As evidenced in Forrester's report, "The Evolved CMO in 2014", 96% of the CMOs surveyed view vision and strategic thinking as critical to their success. The same indicator stood at 89% two years ago.
A second ascension has come in the form of the outright central role of the CMO in evangelizing the voice of the customer inside the organization across Sales, Product Development and Service functions. The CMO's domination in understanding the rapidly evolving customer base and forceful market changes makes it imperative that he become the key informant across all verticals. The CMO is now the irreplaceable and ever-binding force between the customer and the business, and has a responsibility of ensuring a singular understanding of the customer across all business functions.
This need for singularity leads us to the third evolved role of the CMO, which is to ensure that customer data is analyzed and shared in a manner in which new-age technology is leveraged to act upon the findings in a time-sensitive manner. This calls for collaboration on unprecedented levels, not just with the CIO, but across all business functions. In this space, Forrester's "The Evolved CMO in 2014", brings to light an evident gap between the need for adaptations recognized by CMOs and their responses to these needs. The report reveals that while 73% of the respondents recognized the importance of having a singular customer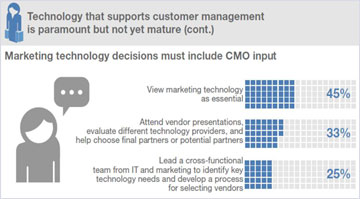 view, a meagre 39% are using technology to "gather, analyze, and respond to customer data". Furthermore, as demonstrated in the illustration alongside, merely 45% view marketing technology as essential. In today's world of rapidly evolving technology and its uses, this demonstrates that while the CMO's role has been augmented, there remains a perceivable adjustment in the MO the CMO needs to adopt in order to remain competitive